When the fire suppression goes off.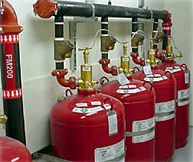 Earlier this week twitter friend Jeremy Gaddis of evilrouters.net experienced a fire suppression system discharge in his data center. His pictures show just what kind of damage can result from such a discharge.
Luckily it looks like it was a false alarm, though the refilling of the cylinders will be an expensive undertaking.  At least it was a gaseous discharge and not a dry pipe system, which would have flooded the room with water.
The sheer power of the discharge is evidenced by his pictures.  When the nozzle releases, the gas floods the room very quickly.
If someone was in the room at the time, they would have to evacuate quickly.  Likely a number of audible pre-alarm systems were in place to notify anybody in the room to get out now.
Any number of things could have set off the system, trace amounts of smoke, a small electrical spark within a system, or even static electrical buildup on the relay that actives the discharge.  An investigation will likely determine the cause.
Worried about your fire suppression system in your data center?  Do you have water pipes right above your racks of data?  We can help.  Contact us today to learn more about our facility and why housing your critical IT infrastructure with Data Cave is the smart choice.
Share this with your friends!